---
Per il comunicato stampa sul sito ICRANet: p { line-height: 115%; text-align: left; orphans: 2; widows: 2; margin-bottom: 0.25cm; direction: ltr; background: transparent }a:visited { color: #800080; text-decoration: underline }a:link { color: #0000ff; text-decoration: underline }
---
Il 15 Marzo 2023, il Prof. Ruffini, Direttore ICRANet, è stato invitato a presentare un seminario presso l'Istituto di Astrofisica e Planetologia spaziali (IAPS) dell'INAF a Roma (Italia). Questo seminario si è svolto nella serie dei "Rome Joint Astrophysics Colloquia (Rome JAC)", organizzato dallo IAPS, dall'Osservatorio astronomico di Roma e dal Dipartimento di Fisica dell'Università di Roma Tor Vergata, che vengono svolti ogni terzo mercoledì del mese.
In questa occasione, il Prof. Ruffini ha presentato un talk dal titolo "New Physics and Astrophysics from GRBs", presieduto dal Prof. Enrico Costa; di seguito l'abstract:
---
Il 6 e 7 Marzo 2023, il Prof. Ruffini, Direttore ICRANet, ed il Prof. Yu Wang, Professore della Faculty ICRANet, hanno partecipato alla "Conferenza degli addetti scientifici e spaziali 2023: la diplomazia scientifica al servizio della crescita dell'Italia", organizzata dal Ministero italiano degli Affari esteri e della Cooperazione internazionale (MAECI) presso l'università di Padova (Italia).
Dopo la cerimonia di apertura, al primo giorno della conferenza sono intervenuti eminenti personalità italiane, come il Ministro degli Affari esteri e della Cooperazione internazionale Antonio Tajani, il Ministro delle imprese e del Made in Italy Adolfo Urso, il Rettore dell'università di Padova Prof. Daniela Mapelli e l'astronauta Luca Parmitano. La prima giornata si è conclusa con una tavola rotonda sul tema "Spazio: la nuova frontiera dell'internazionalizzazione", con l'intervento di Edmondo Cirielli, Vice Ministro per gli Affari esteri e la partecipazione, tra gli altri, del Prof. Giorgio Saccoccia, Presidente dell'ASI e del Prof. Marco Tavani, Presidente dell'INAF.
Durante la seconda giornata, si sono tenute 2 tavole rotonde. La prima sul tema "La Ricerca motore della competitività del Sistema Paese" ha visto la partecipazione del Ministro italiano dell'Università e della Ricerca Anna Maria Bernini e dell'ex Ministro dell'Istruzione, Università e Ricerca, ora Presidente del CNR, Maria Chiara Carrozza. Il secondo evento verteva sul tema "La risposta dell'innovazione italiana alle nuove sfide globali".
---
Il 24 Febbraio 2023, il Prof. Costantino Sigismondi, collaboratore ICRANet, ha organizzato il meeting online "Niccolò Copernico e Gregorio III" presso l'Ateneo Pontificio Regina Apostolorum, Istituto Scienza e Fede a Roma, in collaborazione con l'ICRANet e con l'Osservatorio astrofisico di Asiago. Il meeting è stato anche trasmesso via Zoom e Youtube ed è stato aperto dai saluti di apertura del Prof. Remo Ruffini, Direttore ICRANet, e del Prof. Rafael Pascual, Direttore dell'ISF.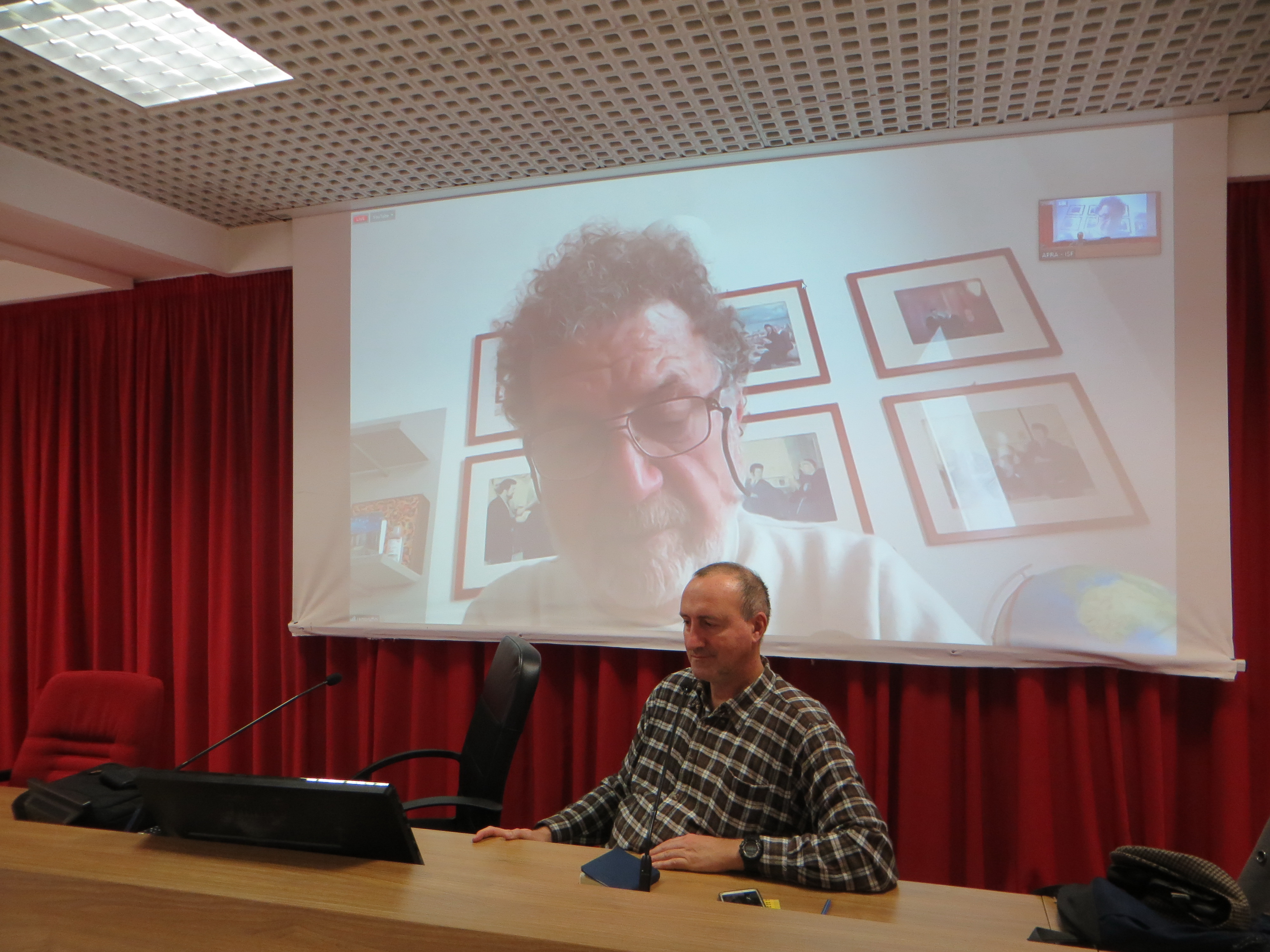 Fig. 4: Il Prof. Remo Ruffini durante il suo discorso di aperture al meeting "Niccolòç Copernico e Gregorio III", presieduto dal Prof. Costantino Sigismondi e tenutosi il 24 Febbraio 2023 presso l'Ateneo Pontificio Regina Apostolorum, Istituto Scienza e Fede a Roma ed online.
I membri del comitato organizzativo del meeting sono stati Cesare Barbieri (Università di Padova), Giuseppe Giudice (Università di napoli Federico II), Paolo Ochner (Osservatorio astrofisico di Asiago ed Università di padova), Cosimo Palagiano (Accademia dei Lincei), Rafael Pascual (APRA/ISF), Elena Piccoli (Liceo Antonio Scarpa Motta di Livenza), Tiziana Pompa (Liceo scientifico Galileo Galilei di Pescara), Remo Ruffini (Direttore ICRANet) e Costantino Sigismondi (APRA ed ICRANet).
Niccolò Copernico nacque il 19 Febbraio 1473 a Torun (Polonia) e, con la pubblicazione del "De Revolutionibus Orbium Coelestium" divenne l'astronomo più influente della storia moderna. 50 anni fa, l'Università di Padova gli dedicò il più grande telescopio d'Italia (lo è ancora oggi): il telescopio Cima Ekar.
La cosmologia stava cambiando sistema di riferimento, abbandonando il punto di vista geocentrico. L'astronomia restava comunque basata sulle osservazioni posizionali meridiane e topocentriche e per ulteriori 2 secoli continuò a preferire il foro stenopeico al telescopio per l'astrometria solare. Un esperimento condotto in simultanea a Roma ed a Motta di Livenza sulla misura angolare dell'arco di meridiano, ci mostra quanto il foro stenopeico resti valido. L'ingresso del Sole nel segno dei Pesci, avvenuto il 18 Febbraio 2023 alle 23:34 è un fenomeno geocentrico, relativo al sistema di riferimento eclittico, che ha l'equinozio vernale come zero e l'orbita apparente del Sole come asse delle longitudini.
Giulio Cesare aveva promulgato la riforma del Calendario nel 46 a. C., prendendo come valore dell'anno tropico 365 giorni e 6 ore, in capo alle quali il Sole tornava all'equinozio vernale. Nel 325 l'equinozio vernale era arretrato al 21 Marzo e questa data fu fissata come equinozio ecclesiastico dai padri del Concilio di Nicea. L'arretramento della data dell'equinozio continuava al ritmo di 3 giorni ogni 4 secoli ed al tempo di Copernico anticipava ormai di 10 giorni. Gli astronomi misuravano equinozi e segni zodiacali cronometrando i passaggi meridiani del Sole in confronto con le stelle. Sapevano sin dai tempi di Ipparco (150 a. C.) che l'equinozio arretrava rispetto alla direzione che il Sole ha sullo sfondo del cielo stellato.
Se il Sole va dall'Acquario ai Pesci, l'equinozio cammina in senso opposto, ma molto più lentamente, facendo un giro completo in 26 mila anni e coprendo un intero segno in circa 2.000 anni. Astronomicamente, la data di nascita di Copernico cadeva 10 giorni più vicina all'equinozio di Primavera, quindi in pieno segno dei Pesci e costellazione zodiacale dell'Acquario, visibile quest'ultima solo in caso di eclissi totale.
La Riforma del calendario venne promulgata il 24 Febbraio 1582 da Papa Gregorio XIII, poiché il vero equinozio aveva luogo l'11 Marzo, invece che il 21 Marzo secondo le prescrizioni del Consiglio di Nicea del 325 a.c. sul computo della Pasqua. La riforma gregoriana risolse il problema della vera data dell'equinozio. Promulgata il 24 Febbraio 1582 da Villa Mondragone in Frascati con la Bolla "Inter Gravissimas", la precessione continua, ma la data dell'equinozio vernale (da Ver=Primavera, in latino) restò fissata al 21 Marzo, secondo la tradizione nicena per il computo della data della Pasqua.
Dunque la precessione continua a cambiare le costellazioni su cui il Sole è proiettato ad una data fissata: 4.000 anni fa sarebbe stato sullo sfondo dei Pesci, 2.000 anni fa era arretrato nella costellazione dell'Acquario e tra qualche secolo sarà nel Capricorno, ma i segni zodiacali restano quelli della tradizione greco-babilonese a cui già Tolomeo si volle adeguare. Si tratta solo di un cambio di sistema di riferimento, come accade per la bussola, che quando guarda a Nord-Est è Grecale, ma da Roma a Nord-Est non si va in Grecia: il riferimento originale era Malta.
In questo meeting, il Prof. Sigismondi ha presentato come l'efficacia della riforma può essere verificata misurando l'ingresso del Sole in Pesci nel 2023 con le meridiane storiche di Piazza San Pietro in Vaticano (1586-1817) e di Santa Maria degli Angeli (1702), usando anche il passaggio meridiano di Sirio, come facevano già gli Egizi oltre 4.000 anni fa. Con quest'ultimo strumento è stata anche effettuata la misura angolare dell'arco meridiano da Roma a Motta di Livenza, ripetendo l'esperimento di Eratostene con le correzioni di Cassini per la rifrazione atmosferica, ottenendo la circonferenza della Terra entro 1% e mostrando perché le meridiane sono state preferite nell'astrometria solare fino a 2 secoli dopo l'invenzione del telescopio.
| | |
| --- | --- |
| | |
| Fig. 5: il Sole proiettato sulla tarsia marmorea dei Pesci di Francesco Tedeschi a Santa Maria degli Angeli a Roma il 18 Febbraio 2023. Il centro di questo riquadro è a 5198 mm dal riferimento 160. | Fig. 6: Sirio sulla sinistra dell'obelisco vaticano il 18 Febbraio 2023 alle h 20:57:15, visto dalla linea meridiana. |
---
---
Il costo della registrazione anticipate è di 300 euro (100 euro per gli studenti) e questa possibilità termina il 1 Maggio 2023. A partire da questa data, il costo della registrazione sarà di 400 euro (150 euro per gli studenti).
---
---
Gamma-ray bursts (GRBs) are the most powerful explosions in the universe. How efficiently the jet converts its energy to radiation is a long-standing problem, which is poorly constrained. The standard model invokes a relativistic fireball with a bright photosphere emission component. A definitive diagnosis of GRB radiation components and the measurement of GRB radiative efficiency require prompt emission and afterglow data, with high resolution and wide band coverage in time and energy. Here, we present a comprehensive temporal and spectral analysis of the TeV-emitting bright GRB 190114C. Its fluence is one of the highest for all the GRBs that have been detected so far, which allows us to perform a high-resolution study of the prompt emission spectral properties and their temporal evolutions, down to a timescale of about 0.1 s. We observe that each of the initial pulses has a thermal component contributing ∼20% of the total energy and that the corresponding temperature and inferred Lorentz factor of the photosphere evolve following broken power-law shapes. From the observation of the nonthermal spectra and the light curve, the onset of the afterglow corresponding to the deceleration of the fireball is considered to start at ∼6 s. By incorporating the thermal and nonthermal observations, as well as the photosphere and synchrotron radiative mechanisms, we can directly derive the fireball energy budget with little dependence on hypothetical parameters, measuring a ∼16% radiative efficiency for this GRB. With the fireball energy budget derived, the afterglow microphysics parameters can also be constrained directly from the data.
Binary-driven hypernova (BdHN) models have been adopted to explain the observed properties of long gamma-ray bursts (GRBs). Here, we perform a comprehensive data analysis (temporal and spectral analysis, GeV emission, and afterglow) on GRB 130427A, GRB 160509A, and GRB 160625B. We identify three specific episodes characterized by different observational signatures and show that these episodes can be explained and predicted to occur within the framework of the BdHNe I model, as first observed in GRB 190114C and reported in an accompanying paper. Episode 1 includes the "SN-rise" with the characteristic cutoff power-law spectrum; Episode 2 is initiated by the moment of formation of the black hole, coincident with the onset of the GeV emission and the ultrarelativistic prompt emission phase, and is characterized by a cutoff power law and blackbody spectra; Episode 3 is the "cavity," with its characteristic featureless spectrum.