---
Figure 1 shows the multi-wavelength light curve of PKS 0735+178 from 2008 to 2022, while figure 2 displays a composite multi-frequency light curve around the time of the neutrino arrival. The flux in all bands exhibits a similar behavior, with the largest flare since the launch of the Fermi satellite in 2008 occurring at the time of IceCube-211208A, marked on the figure by a red vertical dashed line. At the time of the arrival of the IceCube-211208A neutrino, PKS 0735+178 was undergoing the largest 𝛾-ray, X-ray and optical flare observed since 2008. This further strengthens the possible association between PKS 0735+178 and IceCube-211208A and PKS 0735+178 should be considered one of the best VHE neutrino source candidates detected so far.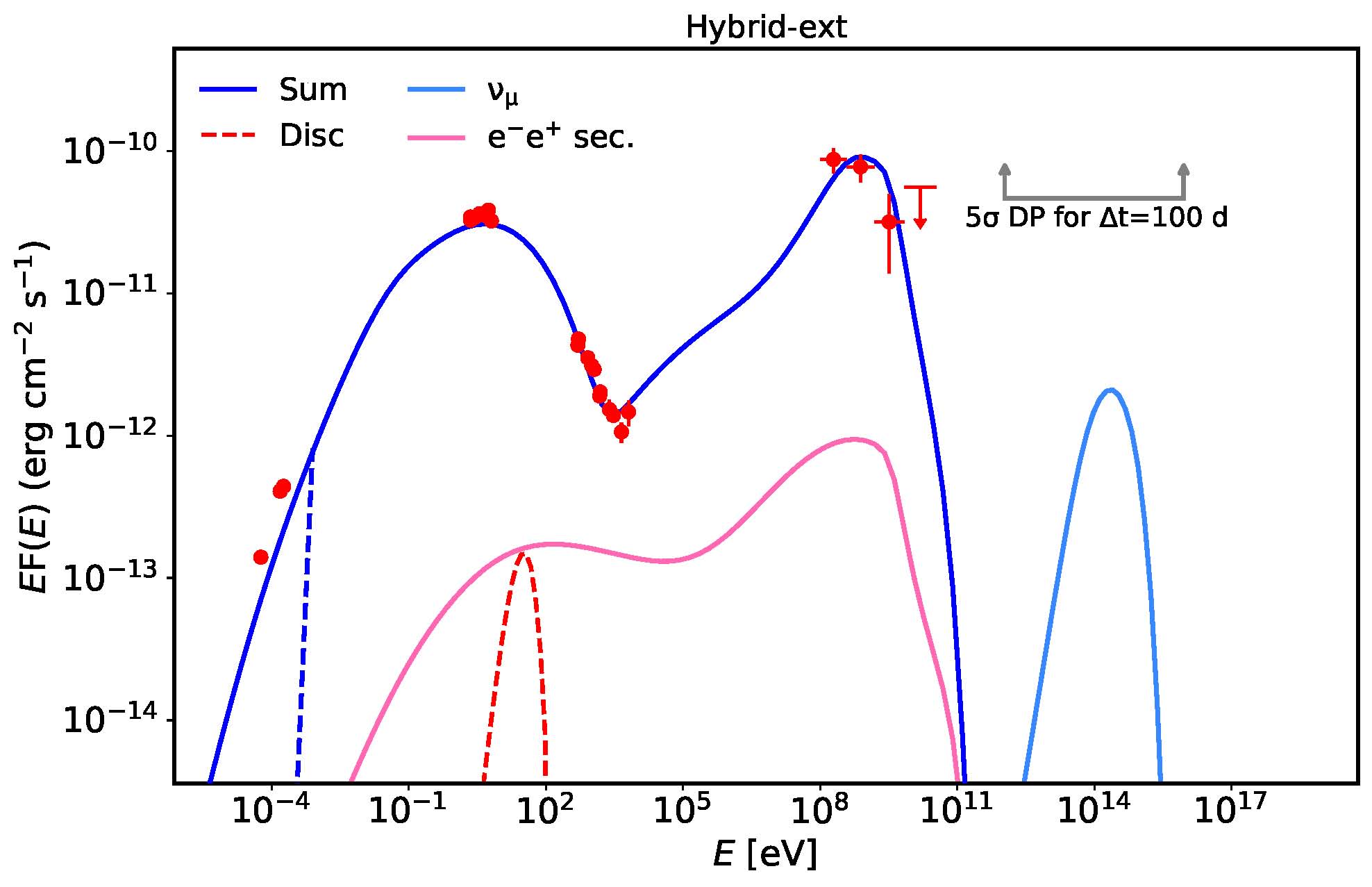 Figure 3.
Thanks to the very good multiwavelength coverage from the optical to the HE band during the IceCube-211208A event, the available data set is very constraining allowing to perform comprehensive modelling of the multiwavelength emission from PKS 0735+178. In particular, the spectral energy distribution of PKS 0735+178 was modeled within one-zone lepto-hadronic models considering both internal and external photon fields and estimate the expected accompanying neutrino flux. The code SOPRANO was used to simulate the electromagnetic and neutrino emissions from PKS0735+178. The code has been developed to study the time-dependent 𝛾-ray and neutrino emission from relativistic sources such as blazars and gamma-ray bursts, taking into account all relevant radiative processes. The most optimistic scenario invokes a jet with luminosity close to the Eddington value and the interactions of ∼ PeV protons with an external UV photon field. Broadband SED of PKS 0735+178 during the time of the arrival of IceCube-211208A modeled considering the presence of an external radiation field (broad line region photons) is shown in Figure 3. This scenario predicts ∼ 0.067 muon and antimuon neutrinos over the observed 3-week flare. The obtained results are consistent with the detection of one very-high-energy neutrino like IceCube-211208A.
---
---
---
---
È nostro grande piacere annunciare che il 7 Dicembre 2022, il Prof. Rahim Moradi, Professore della Faculty ICRANet, è stato insignito del Premio "Lucio Colletti" da parte della Fondazione Lucio Colletti. La cerimonia si è svolta nella Sala Laudato sì del Palazzo Senatorio del Camipoglio, la sede del Comune di Roma.
---
---
---