---
From the theoretical viewpoint, a new solution to Einstein's General Relativity equations was found for the first time, leading to a distribution of dark matter whose nucleus is on the verge of gravitational collapse towards a massive black hole. This solution implies that the same dark matter that forms the dense nucleus is surrounded by a more diluted halo that explains the galactic rotation curves, all in a realistic and unified picture.
---
---
---
From April 12 to 15, 2023, Prof. Remo Ruffini (Director of ICRANet) and Shurui Zhang (ICRANet visiting scientist from USTC – China) have been invited to present a lecture on the occasion of the International Conference Abdildin Readings. Actual problems of modern physics, held both at Al Farabi Kazakh National University in Almaty (Kazakhstan) and online.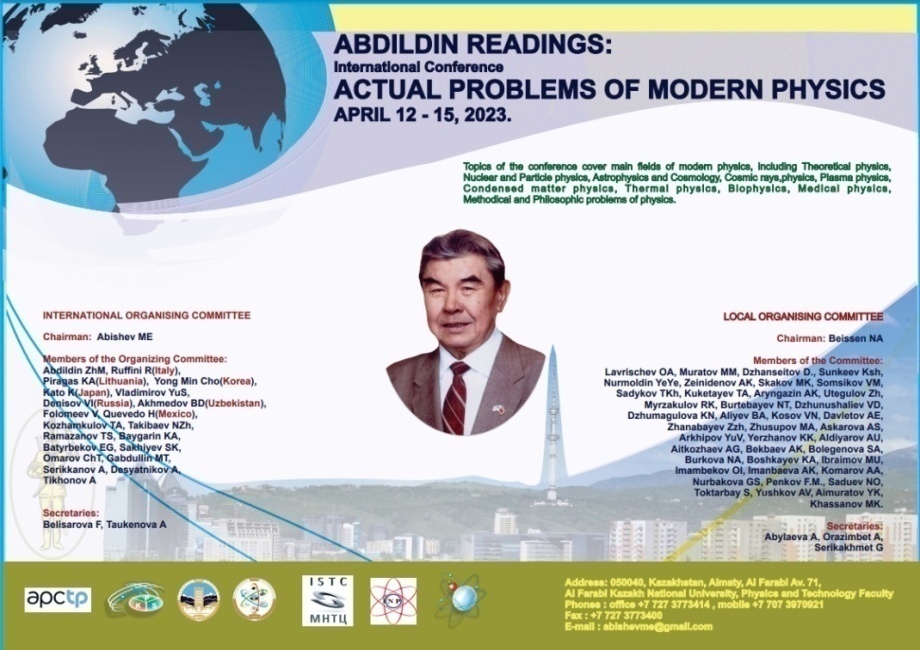 ---
---
---
---
The nature of dark matter (DM) is one of the most relevant questions in modern astrophysics. We present a brief overview of recent results that inquire into the possible fermionic quantum nature of the DM particles, focusing mainly on the interconnection between the microphysics of the neutral fermions and the macrophysical structure of galactic halos, including their formation both in the linear and non-linear cosmological regimes. We discuss the general relativistic Ruffini–Argüelles–Rueda (RAR) model of fermionic DM in galaxies, its applications to the Milky Way, the possibility that the Galactic center harbors a DM core instead of a supermassive black hole (SMBH), the S-cluster stellar orbits with an in-depth analysis of the S2's orbit including precession, the application of the RAR model to other galaxy types (dwarf, elliptic, big elliptic, and galaxy clusters), and universal galaxy relations. All the above focus on the model parameters' constraints most relevant to the fermion mass. We also connect the RAR model fermions with particle physics DM candidates, self-interactions, and galactic observable constraints. The formation and stability of core–halo galactic structures predicted by the RAR model and their relations to warm DM cosmologies are also addressed. Finally, we provide a brief discussion of how gravitational lensing, dynamical friction, and the formation of SMBHs can also probe the DM's nature.